Minute-by-minute magic
The idea of building something is exciting, let alone building something big. PetroChina Canada's journey to success is well in progress for the MacKay River Commercial Project. In January, we posted our progress on our Synbit tanks roof lift , but today we're happy to share the minute-by-minute magic it took to get another boiler feed water tank roof (BFT) 29 metres in the air.
Let us set the scene for you…
It had snowed 150 millimetres the previous night and was a balmy ambient temperature of -27 C at the MRCP site (-36 C wind chill) and the sun had yet to rise on Saturday February 7. PetroChina Canada, in conjunction with Horton CBI Boilermakers supported by Sterling Crane, rose early to lift another record breaking, unstiffened dome roof starting at 6:39 a.m.
The roof measured 31.7 meters in diameter with a weight at the hook of 126,403 kilograms. That's the equivalent weight of lifting 46 Dodge Ram trucks (series 1,500) at once! Preparations for the lift began two hours prior to the normal start time for the crew to take advantage of the pre-dawn low wind conditions. Even at -36 C with wind chill the crew forged ahead and performed the lift without incident in a high traffic location in great time — less than 30 minutes. This was a team achievement between PetroChina Canada, HCBI management, crews and HSSE personnel, and Sterling Crane Operators.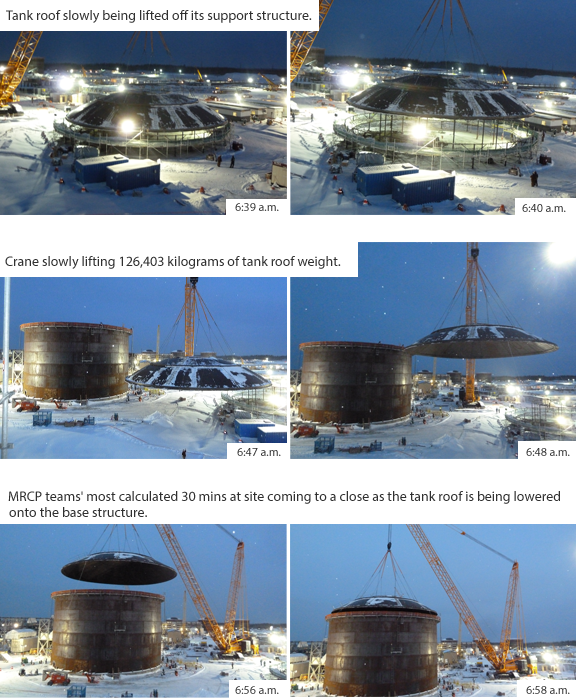 PetroChina Canada is a wholly owned and operated subsidiary of PetroChina Company Limited. Established in 2010, PetroChina Canada is making bold strides in its aspirations to produce 400,000 bbl/d with minimal environmental impact.
To learn more about these projects and current employment opportunities at PetroChina Canada, visit: www.buildingsomethingbig.com.