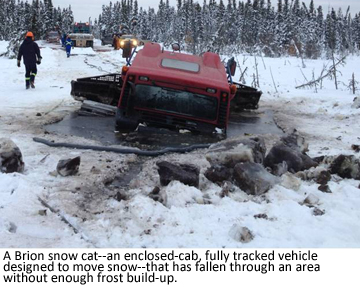 Spring break-up
Every spring, the drilling industry slows down for 'break-up'. It's an industry term used to describe the time of year when the frost comes out of the ground causing the earth to become soft and muddy. This is a period of major slow-down in the oil industry, as the government implements strict weight restrictions to ensure that trucks with heavy loads don't leave roads full of potholes.
Glenn Simpson is a Drilling Superintendant at PetroChina Canada who oversees the winter drilling program and plans his entire year around spring break-up. "Much of the area around our MacKay River project in Northern Alberta is wetland, meaning sloppy spring conditions followed by a lot of rain," says Glenn. "It makes winter a busy time for us because we know that in March we have to limit our movement."
From a health and safety perspective, spring can also be a dangerous time to attempt moving large equipment. The slippery conditions could mean trucks going sideways and what appear to be remote roads could in reality just be frozen muskeg - an acidic soil type formed due to the lack of water drainage because of permafrost, clay or bedrock. In the summer, muskeg resembles a body of water; in the winter muskeg acts like solid ground; and in the spring muskeg is unpredictable in terms of its solidity. This unpredictability is a huge concern for moving or unloading expensive equipment as the closer spring season gets, the more likely it is to lose equipment by having it break through (sink into) thawing muskeg.
"At PetroChina Canada, we do our part to extend the winter drilling program as long as possible by starting earlier in the fall, building high-grade gravel roads to site, and drilling near established road systems that will be less impacted by spring break-up," says Glenn.
While moving equipment would not be impossible during spring break-up time, government regulations state how many wheels would need to be on a truck for the weight of its load. Heavy equipment means much larger trucks, and significantly higher costs.
At the end of every winter drilling season, PetroChina Canada engineers and supervisors book time to conduct "after action reviews". This session is held to evaluate the winter program ensuring goals were met and to go through lessons learned from the past season. Once the after action reviews are completed, information compiled is presented to the executive team for improvement the following year.