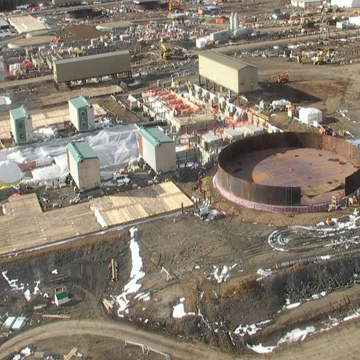 The MacKay River Commercial Project
The harsh winter in Northern Alberta was no match for PetroChina Canada's Project Engineering Team in the construction efforts of the MacKay River Commercial Project (MRCP). The project, located 30 kilometres northwest of Fort McMurray, will be one of Alberta's responsibly managed production facilities. Using steam assisted gravity drainage (SAGD) technology, the MRCP project received regulatory approval in December 2011 and after just three years the project is well into the heavy construction phase.
Wasim Huq, Senior Project Engineer at PetroChina Canada, is one of the people responsible for keeping this considerable project on track. "It's really exciting to see a project go from the planning phases into a functioning worksite," says Wasim. "We have nearly 1,000 people onsite every day and many others in our Calgary head office working tirelessly to make the MacKay River Commercial Project a reality."
Currently, the Central Processing Facility's module fabrication program is underway with some of the largest pieces of equipment arriving at site for assembly. Other modules are nearing completion across Alberta and the United States. The structural steel and pipe for the project has been shipped from Texas and China, and many of the concrete foundations have already been poured.
"The unusually cold temperatures this winter were good in some ways, but made the job more difficult in others," Wasim explains. "The hard frost was ideal for moving equipment and drilling, but the trade off is that concrete does not set as quickly when the temperatures are so extreme."
In addition to the Central Processing Facility work, the site's well pads and pipelines are under construction, the pipe road crossings are nearly complete, and the infield right-of-way has been piled. PetroChina Canada is planning to hydro test much of the infield pipelines this summer.
The MRCP is a four-phase project with an ultimate design capacity of 150,000 bbl/d. Over its projected 45-year lifespan, the MRCP project is expected to recover 1.7 billion barrels of bitumen.
PetroChina Canada was established in 2010 as a joint venture between Athabasca Oil Corp. and PetroChina Company Limited. PetroChina Canada is making bold strides in its aspirations to produce 400,000 bbl/d with minimal environmental impact.